Data logger: Explorer DL
Explorer DL is a volumetric datalogger, compact and integrated, designed to replace mechanical recorder on paper.
Explorer DL is installed in hazardous area and it is able to log up to two pressures (with integrated transducers) and one temperature according with UNI-CIG 9167 regulation.
Explorer DL is also approved by SNAM Rete Gas for datalogging on REMI stations.
Explorer DL is available in a wide product range according with following options: number of transducers, power supply, remote communication and range for pressure transducers.
Data Logging
Measured and calculated variables (like pressure, temperature, measured volume, base volume, diagnostics and so on) could be selected to be logged according user set up.
Using X_Term configuration software It is possible to set up logging parameters. You can set up logging frequency and strategy:
Frequency: from 1 minute up to 8 hours, daily, monthly;
Strategy: average, statistics (min, max, σ).
Memory buffer is larger than 100˙000 records giving to users the possibility to monitor long time periods. Memory management could be chosen between filling strategy (when memory is full logging is stopped) or rolling strategy (when the memory is full the oldest records are overwritten).
Logged data could be downloaded in an ASCII file, with coma separation, in order to allow an easy import in MS Excel or another software.
Events and Alarms
Explorer DL/DP Log could manage events and alarms according with user set up, like threshold crossing, digital status change, etc.
Each variable could be set individually in order to generate an event, an alarm or both. Events and alarms are logged in two different buffers with up to 1000 records for each.
When an alarm is raised €xplorer DL/DP Log starts a phone calls sequence according with set up. Events and alarms configuration is possible using X_Term terminal software.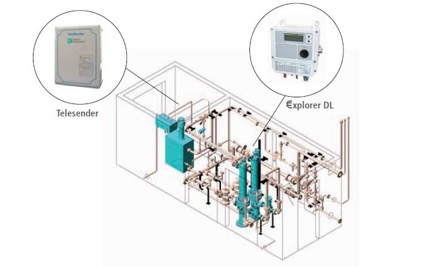 Communication
Explorer DL/DP Log communication is made through serial port and/or Infrared interface (IrDA). Supported communication protocol is Modbus ASCII Slave, both on IrDA and on serial port.
Communication with a remote Control Centre is possible through an external modem (GSM or PSTN) on TeleSender devices installed in Safe Area.